Peploe and Cadell were both born in Edinburgh and both travelled to Paris as young men to study art, although at different times. In the late 19th century, Paris was the centre of the "avant-guard" cultural revolution, and both artists were very influenced by the French impressionist painters of the time such as Cezanne, Matisse and Manet. This influence resulted in Peploe and Cadell adopting a painting style with a fluid handling of paint and full of strong colour and light.
They brought this vibrant French approach to their paintings back to Scotland. In 1909 Cadell established a studio in Edinburgh and met Peploe who became a life-long friend. From around 1912 Cadell would regularly arrive on the island of Iona to paint. He introduced Peploe to Iona in 1920 and they returned most summers thereafter until 1933. Both painters found the tranquillity of the island a welcome break from life in Edinburgh. Between the wars, Iona was at its most popular as an artist community with Peploe and Cadell prominent and popular members. Immediately after the war, Peploe became well known because of the large number of paintings he produced, which were very popular with buyers.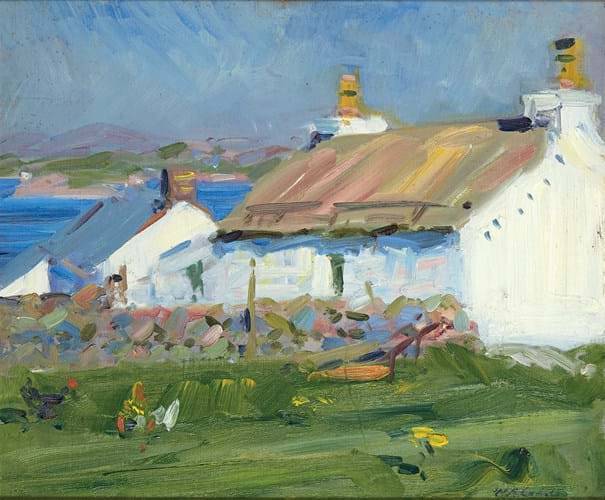 Peploe had been captivated by the intensity of light in France, which he also found on Iona. His favourite spot was the northern, rocky coastline, with its dramatic views towards Mull. He painted in all weathers, often with a palette of cool greens and blues. His paintings show his delight in the island's geology and the play of light on sand and sea. He returned to outlining form in black, which he first adopted during his years in Paris.
Cadell was likewise inspired by the light and colours of Iona's coastline and the effects on the landscape by the rapidly changing weather. He was technically a brilliant artist, producing luminous seascapes and landscapes, seldom using preliminary sketches. On Iona he painted directly onto the panel in the open air with an immediacy which is clear in the freshness of his work. Iona's turquoise seas and pristine beaches were the perfect subject for his landscapes which brought him commercial success.
The Scottish Colourists were internationally known during their lifetimes. In 1924, Cadell sold twenty-two paintings of Iona and over thirty in both 1925 and 1926. Peploe mounted solo exhibitions in Edinburgh, Glasgow and New York, with healthy sales. Group exhibitions took place in London and Paris, resulting in acquisitions for the French and British national collections.
The work of the Scottish Colourists fell out of favour in the 1950's, but in the 1980s there was a renewed interest in their work, which was largely responsible for introducing post-impressionist painting to Scotland. In 2011 a Peploe still life painting sold for £937,250 and in 2020 a painting of Iona by Cadell sold for £64,000.